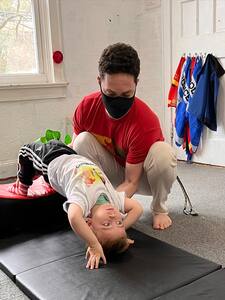 Capoeira is an Afro-Brazilian art form that incorporates elements of sport, music, martial art and dance into a game of physical dialogue and expression. Developed by African slaves in Brazil during the 16th century, Capoeira was designed as a martial art that would be used to fight for freedom. The slaves disguised it as a dance to prevent their owners from discovering that they were training. Binding together elements of sport, music, dance, martial skills and camaraderie, capoeira comprises one of the richest manifestations of Brazilian culture.
Contra Mestre Cabeção has more than 20 years of experience studying and teaching Capoeira as well as a Bachelors Degree in Physical Education. His journey with Capoeira began with Mestre Esquilo in Sete Lagoas, MG, Brasil in June 1996. In 2010 he organized a Capoeira project with SESI – Servico Social da Industria, for children ages 3-10. He participated in numerous Capoeira events throughout Brazil, Israel and the USA and has been performing and teaching in New York, New Jersey, Connecticut, Pennsylvania, Massachusetts and various other locations in the U.S. since April 2011.
In January 2012 Contra Mestre Cabeção , started teaching in Ossining, NY. Classes in nearby Tarrytown started just a few months later. We hosted the group's first annual batizado (a ceremony to deliver the first cordão to each of the students and an event to celebrate our existence as a group) in October 2012. . He have been working as Cai Na Capoeira in the Westchester area to organize classes, workshops, performances and events with the intention of promoting capoeira and all elements of music, culture, health, dance and the arts.